Houston Business & Commercial Law Attorney
Business law and commercial law are closely related, so much in fact the terms are often used interchangeably and the legal issues they address fequently overlap. A large part of business law involves business entity formation and defining the rights and responsibilities of a business.
Experienced Business Law Attorney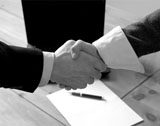 We have a vast amount of experience in business law. Whether you're looking to form a new business, a joint venture, or buying/selling a business we understand the details that will make for a smooth transaction. We work with many businesses in Houston and other parts of Texas who rely tremendously on our understanding and experience. Below are just some of the areas within business law that we focus on:
Business entity formation (Corporations, LLCs, Limited Partnerships)
Business acquisitions & sales
Strategic advice and risk management
Contract negotiations and disputes
Litigation - Contract disputes, collections pursuit, and defense
Liens - perfection, enforcement and defense
Legal issues can be complicated and we know you'll have more questions, so as a place to start give us a call and we'll answer your phone questions at no charge. Or you can contact us here.